Trauma Learning Modules
Welcome to our online trauma learning modules for Virginia Tiered Systems of Supports. We believe that becoming a Trauma-Sensitive School is a journey. Throughout this journey we will provide you tools to develop the systems to gain knowledge, to build practices, and to have the skills to support a Trauma-Sensitive School. Your professional journey includes engaging and practical learning modules. Within the learning modules, you will interact with content that is focused on developing a Trauma-Sensitive School. Supplemental activities, resources, and an action planner are included to help guide your implementation. Videos from experts and division staff implementers are also included with each module to enrich your experience.
Finally, our six modules are focused on the following topics:
Module 1: Introduction to Trauma and Becoming a Trauma-Sensitive School
Module 2: Families and Communities as Partners
Module 3: How Trauma Impacts Learning
Module 4: Strategies and Classroom Practices (academic, social-emotional learning, trauma-sensitive environments, regulation, cognitive problem solving, relationships, school-wide discipline, self-care)
Module 5: Implementation and Systems (division, staff, administrators)
Module 6: Resilience
Please select the appropriate module below to find the materials and information for each.
Note: Documents in this section are WCAG 2.0 Level AA compliant, with a few exceptions. When structure or content makes compliance difficult, we offer an additional, less robust version. Any document marked with an asterisk is visual in nature and cannot be converted to an accessibility-compliant layout. For assistance in using these documents, please contact your VTSS System Coach(es) or the webmaster.
To watch ANY of the videos in a larger display, hover over the YouTube logo. A message reading "Watch on youtube.com" will appear - click on that and enjoy!
Introduction to Trauma and Becoming a Trauma-Sensitive School
Learning Outcomes
Review the formal definition as well as the three categories of trauma
Determine who trauma affects
Understand the impact trauma has on a child's educational experience
Use data to inform the importance of trauma-sensitive practices
Align trauma-sensitive practices into a multi-tiered system of supports
Determine school readiness for implementation of trauma-sensitive practices
Presentation(s)
Video(s)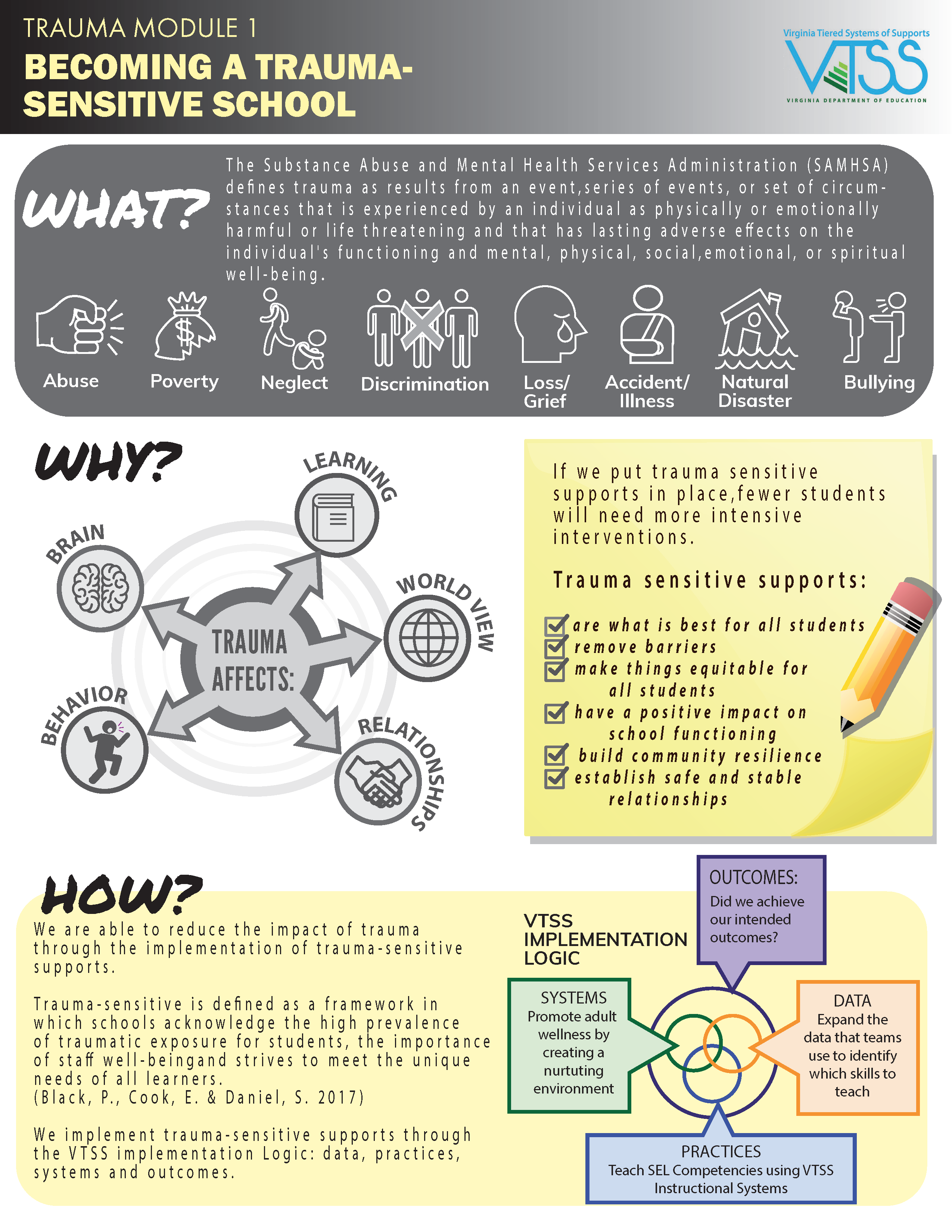 Materials
Action Planning